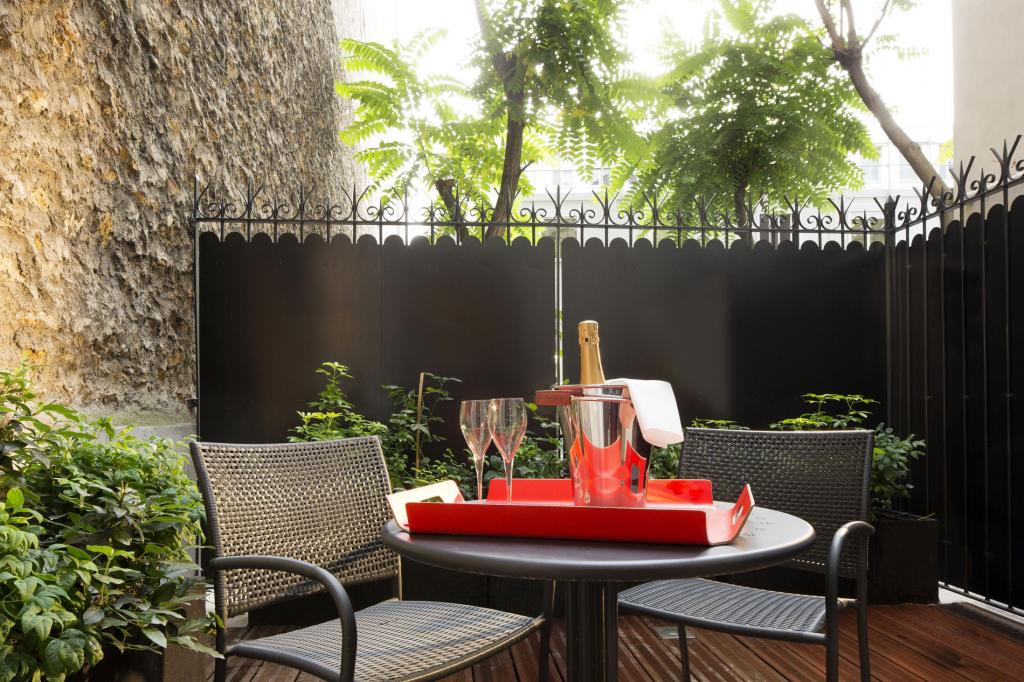 The charm of a Parisian patio
Categories : Hotel, published on : 5/15/18
In the heart of Paris's 15th arrondissement, between a business district, busy shopping streets and a large shopping centre, the Platine Hotel offers a quiet space for relaxing – its sunny patio. Drop in for a gourmet breakfast or a refreshingly original cocktail and enjoy a few moments of calm and tranquillity in the heart of the capital.
Breakfast on the patio
Of course, you may prefer to sample pastries, fresh fruit juice and crisp baguettes on the terrace of your room. However, taking advantage of the Platine Hotel's generous breakfast buffet doesn't mean that you can't enjoy the great outdoors. As the beautiful weather arrives, the patio is the ideal spot to welcome the day. This relaxing space is also accessible throughout the day and you might linger over tea, plan your next outing, sit back with a good book or chat with friends.
An unprecedented principle
As the day progresses, the Honesty Bar takes over the patio. The unique D-Vine tasting machine allows you to discover exciting wines and sample them by the glass. You can also play bartender by choosing and serving your own cocktails. This system is entirely based on trust and the Honesty Bar is open 24 hours a day. Why not enjoy a Happy Hour aperitif before heading out for dinner or to the theatre? Or, pop in for a nightcap to extend your evening in the open air before returning to your room or your cosy suite.
It is possible to have breakfast outdoors in Paris without leaving your hotel. The Platine Hotel serves its tasty and generous buffet breakfast each day and you're welcome to enjoy it on the patio. In fact, you're welcome to enjoy the patio all day long!