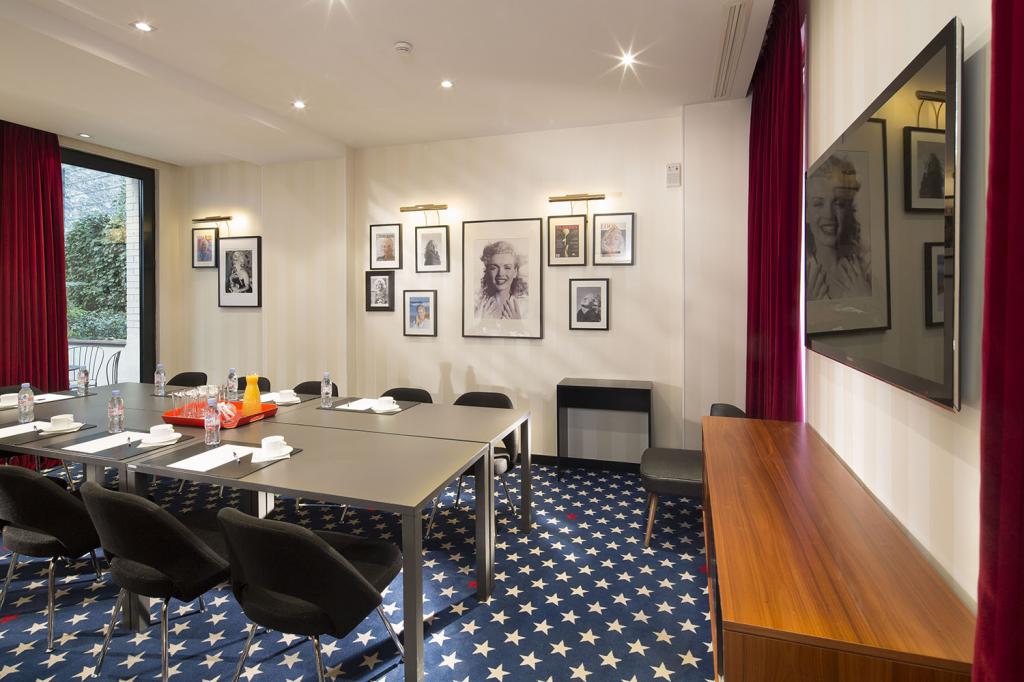 An ideal setting for your seminar in Paris
Categories : Hotel, published on : 6/15/18
The success of a seminar depends on more than just its content. The setting also plays a major role. Surprise and delight your employees by organising study days or meetings at the Platine Hotel! Practicality combined with outstanding service, you'll find everything you need for a successful and rewarding venture.
An original setting for your meetings in Paris
Nothing is less inspiring than an anonymous and soulless meeting room. The warm décor of our seminar room at the Platine Hotel will stimulate debate at your important meetings and conferences. Framed pictures on the walls, the benevolent smile of a famous platinum blonde, natural light, deep carpeting, and comfortable chairs create the perfect cocoon from which to work together constructively and positively. The room is, of course, fully equipped and can accommodate up to 14 people for meetings or events. It's up to you and your team to make the space your own!
Work and relax
Create the optimal conditions for study days by taking advantage of all the services offered by the Platine Hotel. Ideally located in the 15th arrondissement and close to business hubs like the quays, Montparnasse station and Paris Expo Porte de Versailles, the Platine is easy to reach by public transport from main rail stations and Paris airports. You'll receive a warm welcome from the multilingual Platine Hotel team and you can also make use of services such as terraced rooms, the warmth and charm of our Honesty Bar, spa, a steam room, and a sauna and fitness area. A truly harmonious combination of work and relaxation.
The Platine Hotel stands out for its seminar room; a place where the atmosphere is as conducive to exchanges and friendship as it is to work. And, of course, we haven't forgotten the practical details like your comfort or access to a range of amenities.