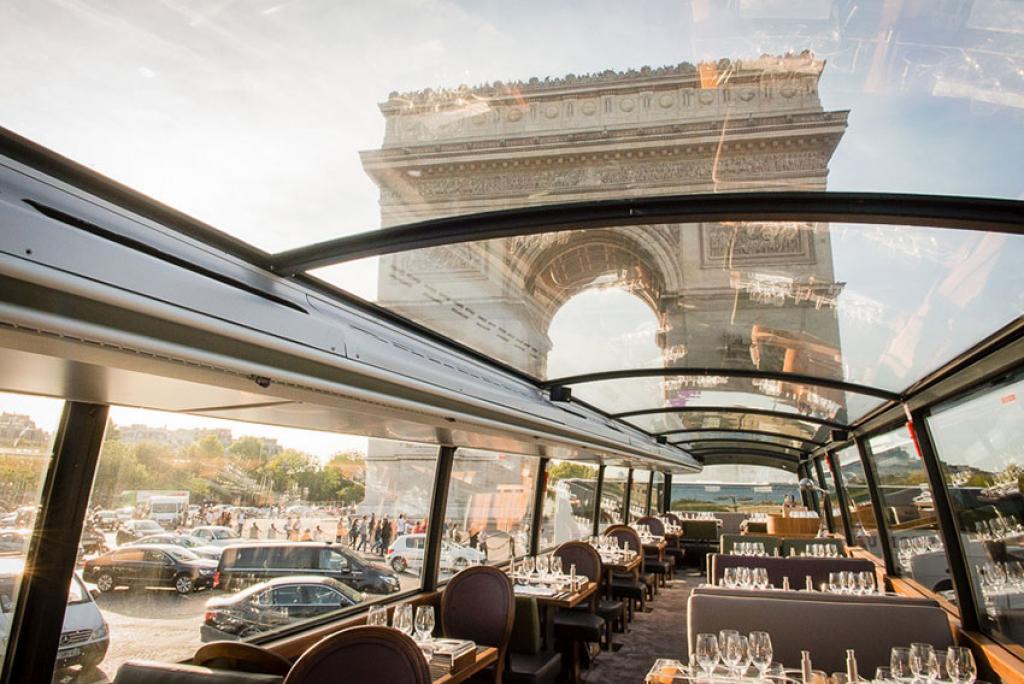 A romantic meal on the Bustronome for Valentine's Day
Categories : Flavors and Gastronomy, published on : 1/10/19
The City of Lovers is at your disposal for Valentine's Day. The backdrop to so many films, Paris is the ideal place to declare or celebrate your love. Now you can dine in comfort as you browse the city in a romantic atmosphere thanks to the Bustronome!
Your Valentine's Day aboard the Bustronome
The Bustronome is an exciting concept. The initial idea was to offer passengers a gourmet meal as they travelled through the streets of Paris and enjoyed dazzling views of its famous monuments. After a few tweaks, the Bustronome finally became a reality. You board a double decker bus with a glass terrace that provides a 360 ° view while protecting you from the weather and cold. Extremely stable, the bus is designed to allow you to sample tasty, beautifully presented dishes without fear of spills. Dinner is served as you pass illuminated monuments on a ride that is simply magical.
The practical Bustronome
The Bustronome offers gourmet meals of four to six dishes, served at the table on real crockery. You also have the option of a menu with food and wine pairings. The ride lasts for just under two hours for lunch and for almost three hours for dinner. The route enables you to admire the capital's best-known monuments from the Arc de Triomphe to the Louvre, from Notre Dame to the Eiffel Tower, and through the Place de la Concorde, the Conciergerie and the Musée d'Orsay. You can choose to follow the guided commentary, or you can simply gaze into your partner's eyes – it's up you!
More original than a restaurant and offering views of more monuments than a riverboat, the Bustronome is the ideal solution for a romantic Valentine's Day dinner in Paris. Don't hesitate to contact the Platine Hotel team if you'd like help with the organisation of your dinner!
******
More information :
---
Platine Hotel, a 4-star boutique hotel at the heart of Paris 15th