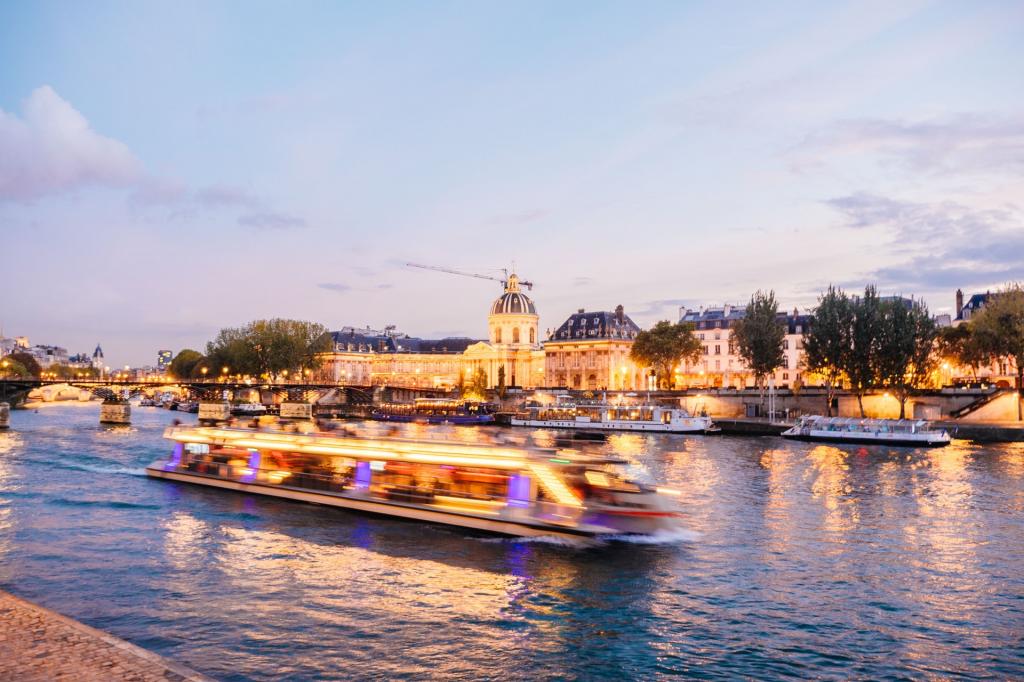 A dinner cruise on the Seine is always an exceptional experience
Categories : Visit Paris, Flavors and Gastronomy, published on : 9/20/21
Whether you're discovering Paris for the first time or know the city well, there is one experience that simply should not be missed: a dinner cruise on the Seine. Today, your Platine Hotel team invites you to take to the water for one of the city's most iconic excursions: dinner aboard one of the capital's famed Bateau-Mouche river craft while gliding gently past various iconic locations.
The magic of a cruise on the Seine
The observation deck of the Montparnasse Tower, the second floor of the Eiffel Tower and the square of the Sacré-Coeur Basilica in Montmartre offer breathtaking panoramas over the city. However, Paris looks at her most impressive when you see her from the Seine. In the evening, the succession of illuminated monuments you pass, including Notre-Dame Cathedral, the Louvre, the Orsay Museum, the Place de la Concorde and, of course, the Eiffel Tower, takes on a simply magical character.
Gastronomy on the water
The romantic aspect of a cruise on the Seine is underscored by the enjoyment of a fine dinner. Sip a glass of champagne facing Notre-Dame Cathedral, savour a dessert created by Lenôtre as the Jardins des Tuileries glide by, and relish refined and seasonal cuisine that celebrates French tradition while remaining contemporary. Amidst a soothing and convivial atmosphere, you can allow yourself to be carried away by the panorama and the bewitching rhythm of the boat. Whether you wish to celebrate a special occasion or simply share a charming moment, a dinner cruise on the Seine offers an exceptional experience.
During your next stay at the Platine Hotel, why not embark on a gourmet dinner cruise on the Seine? Illuminated monuments, a romantic atmosphere, the finesse of the cuisine; everything is in place to create moments that will be simply unforgettable!
******
---
Platine Hotel, a 4-star boutique hotel at the heart of Paris 15th